Les Caves de la Loire
The n°1 Producer of Anjou and Saumur wines
Founded in 1951 in Bressac, right in the heart of the Angevin wine region, Les Caves de La Loire have flourished and become one of the crowning jewels of the Loire Valley. With over 60 years of history and experience, this institution is renowned for its skill, expertise and willingness to modernize.
Les Caves de La Loire are first and foremost a representation of their winemakers and their terroir, but they are also driven by teams who work tirelessly on a truly fascinating product. Specializing in rosé wines, the Caves have expanded over the years by combining tradition and modern technology to cement their position.
Recognized administrative awards and labels
– HACCP and IFS BRC
– Traceability from vine to bottle using technical specifications which we draw up alongside our winemakers, enabling us to control the quality of our wines all the way to the glass. Our winemakers are all fully trained to work in their vineyards and operate their wineries.
– Vignerons Engagés®
Modern, high-quality tools
Nitrogen-atmosphere pneumatic presses, floatation systems, temperature control, electrodialysis, tangential filtration.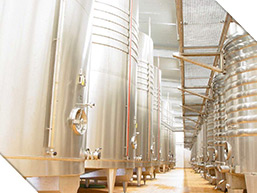 Our sites
– 3 wine-making sites: Brissac, Tigné and Verchers sur Layon.
– 2 presses : Thouarcé and Beaulieu sur Layon
Find out more :
www.cavesdelaloire.com

PRESIDENT
Régis ALCOCER
Key figures
2018-2019