Les Vignerons du Pallet
AOC Muscadet and "Le Pallet" Cru Communal wines
Just outside Nantes, in the very heart of the Muscadet wine region, 12 winemakers joined forcesto put their open-mindedness and mutual trust to work and produce wines for the LE PALLET Cru Communal. By pooling their skills, expertise and the wealth of their terroir, they bring out the very best in each other and produce wines with great personality and truly high quality.
From the Château Palatio (a white stone terroir) to the Château des Templiers (a black stone terroir), and of course the emblematic "Jubilation le Pallet" Cru Communal, they work tirelessly to guarantee that their wine provides a complex and successful expression of their land.
Driven by their passion and the search for authenticity, they also produce a truly exceptional ambrosia: the "Overdose" vintage, a rare wine made using unique, secret and ancestral techniques which are known only to the winemakers of Le Pallet. When you taste the Muscadet wines from the Vignerons du Pallet, dare to dream!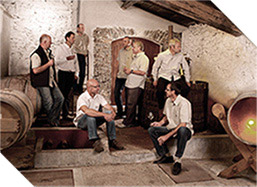 Find out more:
www.vigneronsdupallet.com

PRéSIDENT
LAURENT BOUCHAUD
Key Figures for
2018-2019