Les Caves des Vins de Rabelais
The n°1 producer of Chinon wines
The Cave des Vins de Rabelais was founded in 1989. This was a time when the Chinon winemakers wanted to join forces and create a cooperative, expanding and maximizing the sales potential of the biggest red appellation in the Loire Valley.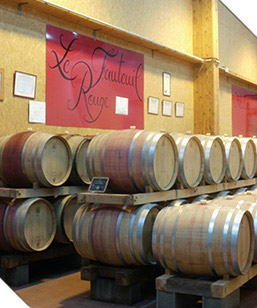 In the heart of a truly exceptional region this cellar offers distinct, identifiable wines which represent the wealth of Chinon terroir. Their emblematic wines such as the "Fauteuil Rouge", launched in 2012, stand up to even the greatest wines. These wines are produced and aged in oak barrels for 12 months, and released to specialist wine cellars and restaurants.
The brand has also made a name for itself in the mass market, with its own labels such as Le Futreau, whose finely oaked red wines are a nod to the old boats which used to transport wine barrels along the Loire.
As for wines from other estates, the Cave des Vins de Rabelais is surrounded by unmistakable local figures such as our President, Pascal Brunet (Domaine Brunet), Pierre Sourdais (Domaine des Hardonnières) and François Caillé (Domaine du Noyer).
---
Recognized administrative awards and labels
– HACCP and IFS BRC
– Traceability from vine to bottle using technical specifications which we draw up alongside our winemakers, enabling us to control the quality of our wines from the vine to the glass.
Our winemakers are all fully trained to work their vineyards and operate their wineries.
– Agriconfiance®
– Vignerons en Développement
Durable®
In 2015, a long-term action plan involving a number of local figures was launched to promote biodiversity.

PRéSIDENT
PASCAL BRUNET
les CHIFFRES clés
2018-2019