Confrérie des Vignerons de Oisly et Thésée
Touraine AOC wine producer
Located only 30 minutes to the south of the Château de Chambord, La Confrérie des Vignerons de Oisly et Thésée was founded in 1961 in the heart of the Sologne wine region. The Vignerons de Oisly and Thésée have been specialists in top-class Touraine wine for over 50 years, bottling their wine on their own site.
They offer a full range of their own renowned wines and brands, as well as wines from other domains and Châteaux such as the Château de Vallagon.
The Coopérative de Oisly et Thésée gained their reputation by producing Touraine Sauvignon wines, but they also make fruity red wines from a number of different varieties: Gamay, Cabernet, Pinot Noir and Côt-Malbec.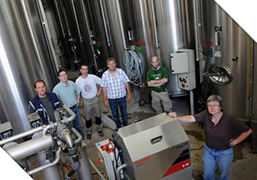 President
Baptiste Charbonnier
Key figures for
2018-2019